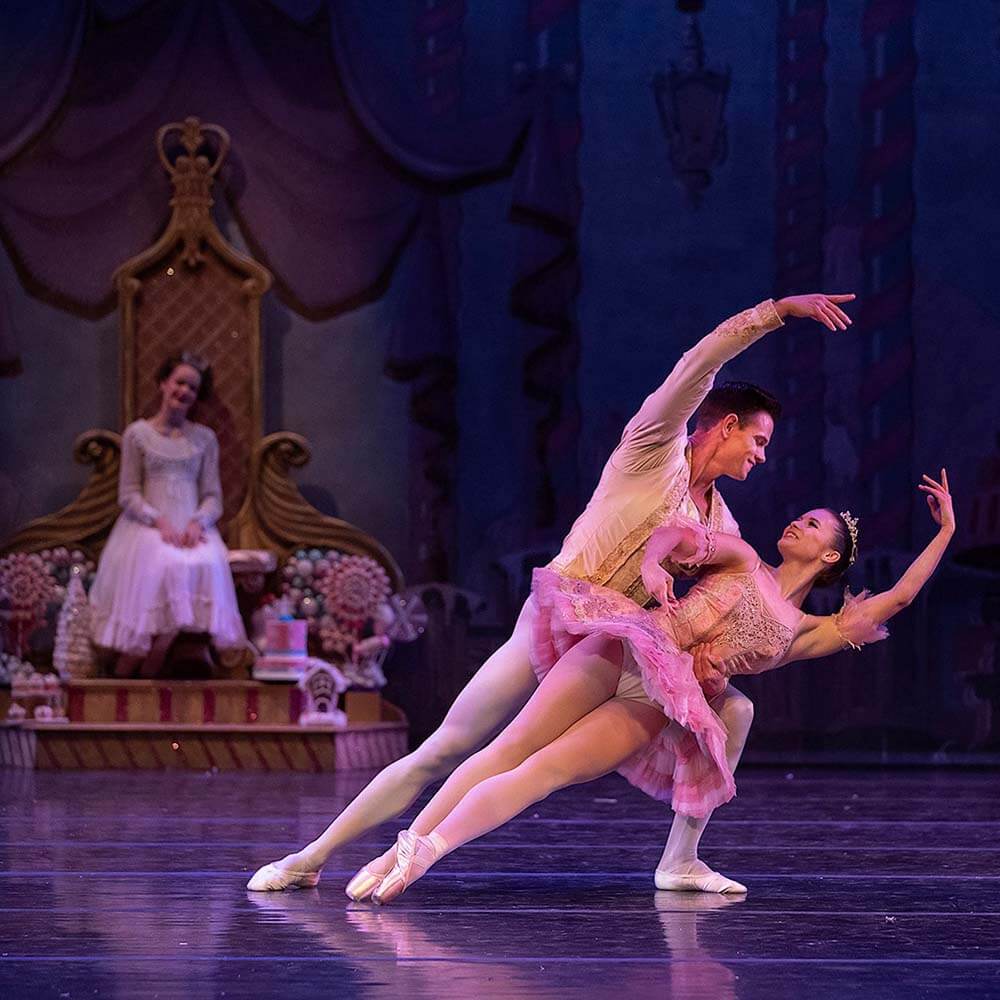 The sweetest of all holiday traditions is back.  Little Clara's dream comes alive in Gwinnett Ballet Theatre's 41st annual production of The Nutcracker.  Join Clara as she is swept away into a magical land of adventure.  Be captivated as Drosselmeyer's magic ushers in an army of mice at the stroke of midnight and the Christmas tree and Clara's beloved nutcracker spring to life. Travel with Clara and her Nutcracker prince as they set out on a wonder-filled journey to battle the Mouse King and travel through the Land of the Snowflakes and Kingdom of the Sweets to meet the Sugar Plum Fairy.  Immerse yourself in the most popular ballet of all time, The Nutcracker!
The Largest and Longest Running Nutcracker in Gwinnett County
For 41 years, Gwinnett Ballet Theatre has been inspiring audiences in Gwinnett County with their performance of The Nutcracker – one of the longest running productions in Georgia.  GBT's Nutcracker features over 90 dancers, 20 costume and backstage hands, a live orchestra and two casts of dancers from the professional members of Gwinnet Ballet Theatre and student dancers from the Sugarloaf Youth Ballet.  Don't miss Gwinnett Ballet Theatre's special presentation of this holiday tradition!  Save yourself a trip downtown.  Performances are conveniently located in Duluth at Gwinnett's largest theatre at the Gas South District.
Enjoy a LIVE Orchestra
Enjoy the music performed by a LIVE orchestra from December 9th-18th as the Gwinnett Ballet Theatre Orchestra performs under the direction of international renown conductor, Predrag "Pedja" Gosta.   The doors open with a trumpet fanfare as you take your seats for this spectacular performance!
Give Back to the Community
Join Gwinnett Ballet Theatre as we give back to the community with our holiday canned food drive for the North Gwinnett Co-op.  This year there is a special need for laundry detergent, zip lock bags, boxed cereal and pasta.  Bring your donation to the theater and we will help distribute it those in need.
This Christmas, bring the whole family back to a simpler time with The NUTCRACKER! A Magical Christmas Ballet!